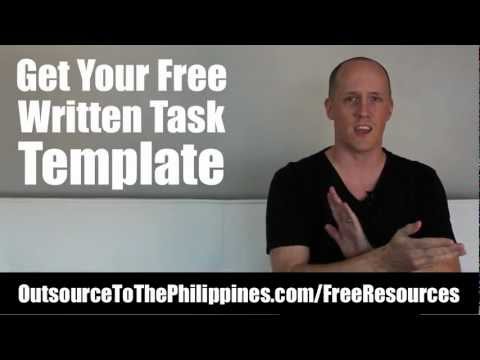 How to Train Your Virtual Assistant
The importance of training absolutely can not be underestimated. This is especially true when working online with your filipino virtual assistants. In this episode of the Outsource to the Philippines video series, Chris shares his Three Top Tips on how to train your virtual assistant
When working virtually with a new hire assistant in this modern digital economy, it's important to understand the tools at your disposal. No longer do you need to communicate solely in writing. Today you have tools that allow you to communicate with video and audio. The best part is, these tools are inexpensive (or free) and they provide everything you need to be a great virtual boss.
When utilizing video to communicate with your remote staff, you have lots of options. You can simply record yourself discussing what you need or you can record a screen shot with your voice describing what your doing. Screen-casting is easy to do and allows you to walk through a process with your staff in the Philippines, now matter where you are.
Another way to communicate with your filipino virtual staff is to record audio for them. It's a great way to convert something you are thinking into reality. Just click the record button and dictate the task, then send it to your staff to make it happen. The great thing about dictating messages is, your virtual assistant in the Philippines can play that message over and over again to make sure they understood your directions.
You will be learning the expert tips that Chris has learned from years of working with Filipinos on the ground, in the Philippines. His experience in helping business owners utilize the power of outsourcing over the last 12 years has led him to three specific tools for getting the most out of your time spent training your virtual assistant.
Three Top Tips:
Video – virtual assistant training via Screen Recording
Audio – train a VA through the use of voice recordings to dictate tasks
Written – Short concise communication via words
Plus, much more…
Mentioned in this Video: