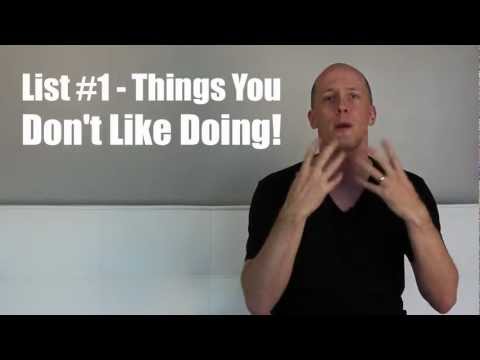 Offshore outsourcing has dramatically changed the way business is done. Big players and companies such as IBM and Microsoft have been outsourcing their help desks for years, cutting down their operational costs, and making a lot of products more accessible to consumers in the process.
Yet despite all the excitement over outsourcing, a lot of entrepreneurs still get stumped on the most basic of questions: What exactly do I outsource? Or better yet, what can I outsource?

Often, when people think of delegating or outsourcing a task, they begin with the ones that they often don't want to do. Although it may seem logical emotionally, it is the wrong metric to use (more on that later), and can be severely limiting to your business. Others get lost because they just don't know what's out there, which makes more sense. How can you buy something that you don't know is for sale?
#1 Outsourcing Destination of Choice
Entrepreneurs are often shocked by the amount of services available, particularly in the Philippines, where the services industry drives 54% of their GDP, yes, you read that right! The Philippines had long come second only to India in terms of offshore services, but recently that changed and the country is now known as the #1 outsourcing destination of choice. 

Services are usually defined as traditional "Business Process Outsourcing", or BPO, which usually covers entry to intermediate tasks. These are jobs that can be repetitive, extremely procedural, and require few independent decisions. "Higher BPO", or Knowledge Process Outsourcing, is usually mid to high-level jobs. These tasks require more analysis and creativity, usually done by independent consultants.
To give you an idea of the difference in services offered, what follows is a list of BPO and KPO services in the Philippines.
Traditional Business Process Outsourcing
Top players such as Microsoft and Linksys have tapped into the talent in the Philippines to handle their customer service and technical support hotlines. In fact JP Morgan & Chase recently opened a huge facility in Cebu City (where I'm based), where thousands of Filipino workers served an International client base 365 days a year.
The proliferation of contact centers in the Philippines is proof that the value found in lower labor costs is key to luring in clients, but that isn't why they stay. Most stay because of the quality of outsourcing services.
It's been said that Filipino call center agents are second to none in their soft skills, even compared to on-shore agents. Their ability to transmit a smile over the phone is what keeps contact centers booming here, even after a decade of growth.
Administrative Services
While bigger call centers have started to offer virtual administrative assistant services, it's more common for freelance virtual  administrative assistants to provide these services. 
Always wanted someone to take care of the office work so you concentrate on growing your businesses? Do you have several virtual administrative assistant jobs that you want to outsource? Here is your chance. You can hire your own virtual assistant to take care of the busy work such as answering phones, scheduling appointments, managing your email, keeping track of your calendar… Basically, anything that needs to be done in your office that doesn't require any lifting.
Most Philippine VA's have had experience in support staff services, either as a call center agent or a brick and mortar administrative assistant. If you luck out, you'll hire someone that has experience in both.
Call center experience is an excellent qualification as their environment is chaotic, stressful, and highly intensive places to work in. If you've ever walked the production floor of a call center here, you'd see how chaotic the place can be. I should know, I've owned one for the last five years!
Final thoughts
Most call center agents and virtual office assistants are trained to do one thing: multi-task, and work with a lot of hustle. You stare at a screen, analyze a customer's problem, type their information while you're talking to them, pull up your tools– such as flow charts, maps, etc.– all while trying to guide customers into doing what they need help with. You're note-taking for your own records, troubleshooting some more, and in some cases, put the customer on hold as you try and call someone from another department who's supposed to handle the problem.
All this has to happen in a span of three minutes, which is the average handling time for most call center services companies. By the time an agent graduates into a traditional support position, such as a virtual office assistant, they no longer have to bat an eyelash on crazy busy work. They've seen worse.
Traditional Virtual Assistant's do what most Virtual Administrative Assistants do: answer correspondence, manage your inbox, take calls on your behalf, research on the Internet or just manage your calendar. Beginner VA's with at least two years of real world experience are used to doing more secretarial work, so outsourcing your back office is no problem.