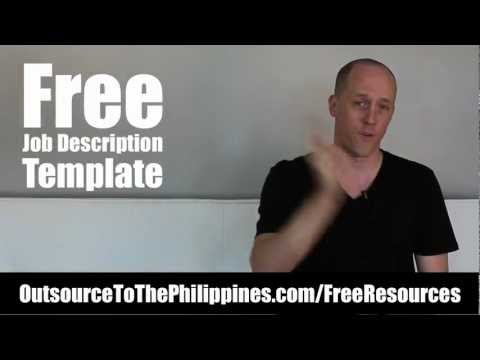 The Importance of Virtual Assistant Job Description Documents
When planning to hire your virtual assistant here in the Philippines, it's important to put together a good, concise, virtual assistant job description (JD) document. A quality job description for what your looking for in a virtual assistant will help you attract the best Filipino VA available, while maximizing their productivity as your new hire.
It's important to understand that the Philippines is experiencing economic growth now like they've never seen before. This means that the job market is noisy with offers for experienced, talented virtual assistants. It's important that your job description stand out and express exactly what you're looking for.
When a talented filipino is looking for jobs and they come across your offer, it's important that they read your job description document and feel confident that they can do what you are asking them. This will help you attract the highest quality people for the roles you are seeking to fill. Not only will this help you attract the specific type of person you need, it will also allow you to make the transition of bringing them into your business easier.
As with all new hires, you will be required to teach them how you do things. This can either be a mismanaged, difficult process, or it can be a quick mutually beneficial process. The key to making the experience mutually beneficial is to make the job description of a virtual assistant clear and concise. When you and your new hire understand exactly what you are trying to achieve, you can both work to understand each other more fluidly.
Don't think that you will never be able to use your new hire for anything other than what you hired them for. We are simply suggesting that you start them off with specific tasks that they can master to help your business. After a month or longer, they will be capable of managing these virtual assistant tasks without requiring any of your time. At this point you can examine if you are utilizing them the best for their capacity. This is the time when you can expand their role in your business.
In this episode of the Outsource To The Philippines video series, Chris describes the essential ingredients that make for a successful virtual administrative assistant job description document. After being in the outsourcing industry for more than 12 years, Chris has seen his fair share of virtual assistant job description documents. Some of them are good, some not-so-good. With this advice, you can make your JD the best it can be.
Job Description Tips for Hiring a Great Virtual Assistant
This is NOT an opportunity for a brain dump
Tips on clear and specific task responsibilities
Plus, much more…
Mentioned in This Video